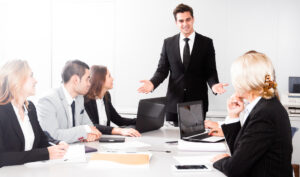 Overview
This course is aimed at students who want to excel in the English-speaking work environment. You will learn how to speak and write professional English, with a task-based approach guaranteed to increase your confidence in real world work-related situations. The syllabus has been specifically designed to help you to get the practical skills you will need to become a workplace communication expert.
Our senior lecturers are highly qualified and trained, and depending on your needs you can choose between taking either: intensive over two weeks, standard over four weeks or weekend over ten weeks.
We provide our students with dynamic activities, expert guidance and continuous feedback meaning you will increase your fluency from day one and make quick and steady progress.
Take our course from anywhere in the world. With virtual learning options as well as online classes are available, our course can work to your schedule.
COURSE FORMAT
This course is designed for under- and post-graduate students, as well as scientific and technical professionals (NFQ levels 6) and delivered Virtual Classroom environments. Students will have the option to join a class based on their own ability (intermediate or advanced).
You will also be able to choose the format in which you learn as the course is delivered both Online as well as virtually (live stream interactive online classes).
Course materials will be given to provide students with further study options. These will be found online (Virtuline Hub) or will be given as hard copies (charges may apply).
The lessons will include practical exercises and assessments. Students will have different types of lesson plans to choose from including: intensive (over two weeks), standard (over four weeks), or weekend (over ten weeks).
MODULES (Part 2)
Self-introductions, describing your role and responsibilities
● Meetings: Chairing, setting the agenda, controlling the conversation.
● Participating in discussions: turn-taking, listening, and taking notes.
● Being diplomatic, agreeing and disagreeing.
● Reading and writing reports and proposals,
● Business correspondence: emails, register, style, standard phrasing.
● Business-specific vocabulary and conventions.
● Telephoning: Checking and clarifying information.
● Giving presentations: introducing a topic, sequencing ideas and concluding.
● Describing processes and stages.
● Negotiating language and persuading.
● Social English: networking and small talk.
LEARNING OUTCOMES
This course aims to develop the practical skills you will need to expertly communicate in the English-speaking workplace. You will learn: reading, listening, speech and writing skills.
Reading: Students will learn to
● Understand a variety of contemporary everyday business topics.
● Read and condense large pieces of information, such as business reports.
● Comprehend large pieces of information in a short amount of time, such as presentations.
Listening: Students will learn to
● Understand professional language.
● Follow fast-paced conversations.
● Comprehend specific pieces of information.
Speaking: Students will learn to
● Use professional language e.g. giving presentations, great interviews and negotiating.
● Demonstrate knowledge of business vocabulary.
● Appropriately use of formal and informal language.
Writing: Students will learn to
● Write in a professional manner.
● Write in a different tone depending on the intended audience.
● Write using coherent viewpoints with a beginning, middle and end.
Students will get the opportunity to improve their overall grammar, pronunciation and vocabulary as this course also provides lessons in these areas:
● Grammar: Students will learn how to properly structure sentences.
● Pronunciation: Students will be provided with helpful hints and tips to help them sound more natural.
● Vocabulary: Students will broaden their vocabulary range with lessons focused on: lexical sets, collocations and functional phrases commonly used in business settings.
OPPORTUNITIES
● Academic research e.g. Research MSc and PhD.
● Data science jobs across industries including academic and research institutes.
● Government research jobs.
● Consultancy jobs.
ADDITIONAL FACILITIES
● Opportunity to practice data analysis and programming in areas of special interest.
● Improve skills while enjoying free time with leisure activities.
● Access to material posted on our school online platform.
● Support and feedback from qualified teachers.
Key Facts
● Course Duration: 60 hours.
This can be taken as a:
● Standard Course (over 4 weeks)
● Intensive Course (over 2 weeks)
● Weekend Course (over 10 weeks).
● Entry Level: Intermediate or Advanced Speakers(NFQ level 5 completed students).
● Lesson Duration: 3 hours per lecture.
● Size of the class: up to 21 students at a live stream interactive online class (Virtual).
Course Timetable:
● Standard Course: Monday to Friday, morning or evening
● Intensive Course: Monday to Friday, morning and afternoon
● Weekend Course: Weekend mornings
| Course Name | Course Shift | Course Fee |
| --- | --- | --- |
| Business English For Advance Lerner Standard Monday to Friday | | |
| Business English For Advance Lerner Standard Monday to Friday | | |
| Business English For Advance Lerner intensive Monday to Friday | | |
| Business English For Advance Lerner intensive Monday to Friday | | |
| Business English For Advance Lerner Weekends | | |